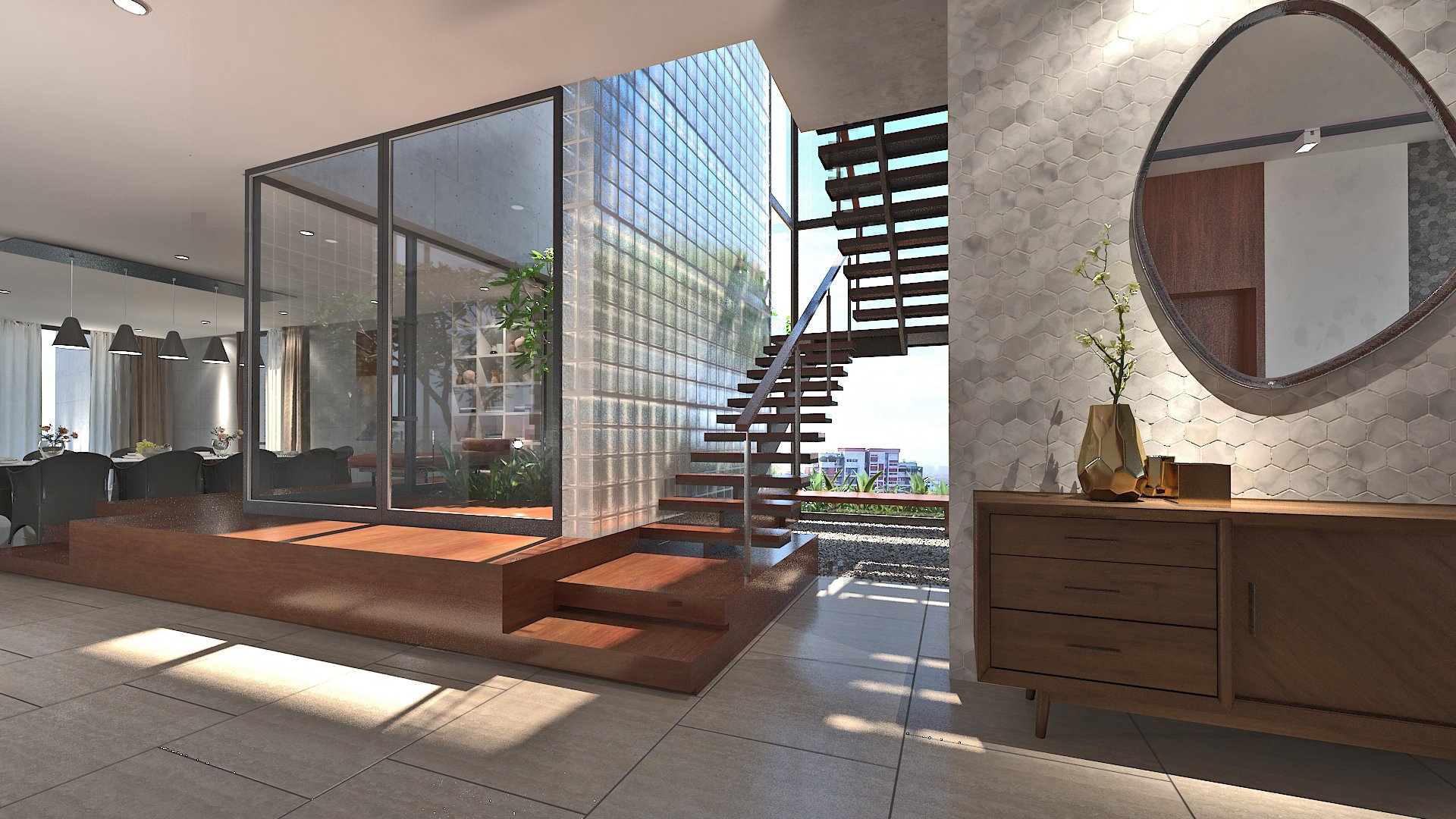 Situated within a densely packed forest of apartments that look nearly identical to each other, the client had commissioned a luxury apartment within the prolific Banani Model Town. Hence one of the main goals of the design was to create a unique identity that would not fall for the stereotypical mold of a luxury apartment. In order to maintain this uniqueness, a key factor to this design was taking a more modest and humble approach. Porosity is one of the main themes used to create a connection with the environment and balances the segregation of the outside world with the residents. The ground floor is open and free and the greenery alongside it creates a scenic atmosphere.
While maintaining the theme of porosity, the topmost floors of the apartment, which is a penthouse, opens up to a staggering terrace garden, emulating the feel of a hanging garden. The facade accomplishes in maintaining the privacy of the users while also making sure that the connection to the outside is not lost. This hanging garden also helps shape up the identity of the building, making it immediately recognisable in the area, and also making sure that it does not fit the traditional settings of a luxury apartment building design.
The unit apartments follow a similar structure, with apartments that have open views while their privacy is protected and shaded from the harsh sunlight through the effective use of jali screens. With the effective use of greenery that crawls through the building, the users are able to isolate themselves from the general pollution that the city faces while also keeping themselves cool. Following the tradition of most luxury apartments, there are various shared facilities within the apartment for the users to feel comfort at home.
Location : H-17, R-23, Block – B, Banani, Dhaka.
Client : A K M Badiul Alam
Consultants : Cubeinside Design ltd.
Land Area : 902.67 sqm
Total Built Area : 6902.88 sqm
Architect : Khandaker Ashifuzzaman, Md. Shakhawat Hossain
Associate Architect : Arif-uz-zaman
Design Team : Israt Teesha
Structural design : TDM
Plumbing Consultant : Thermo Ambient
Electrical Consultant : Thermo Ambient
Landscape Consultant:
Construction Supervision : Signature 11
Project cost :
Design Timeline : 2019-2021
Construction Timeline : 2022-2024