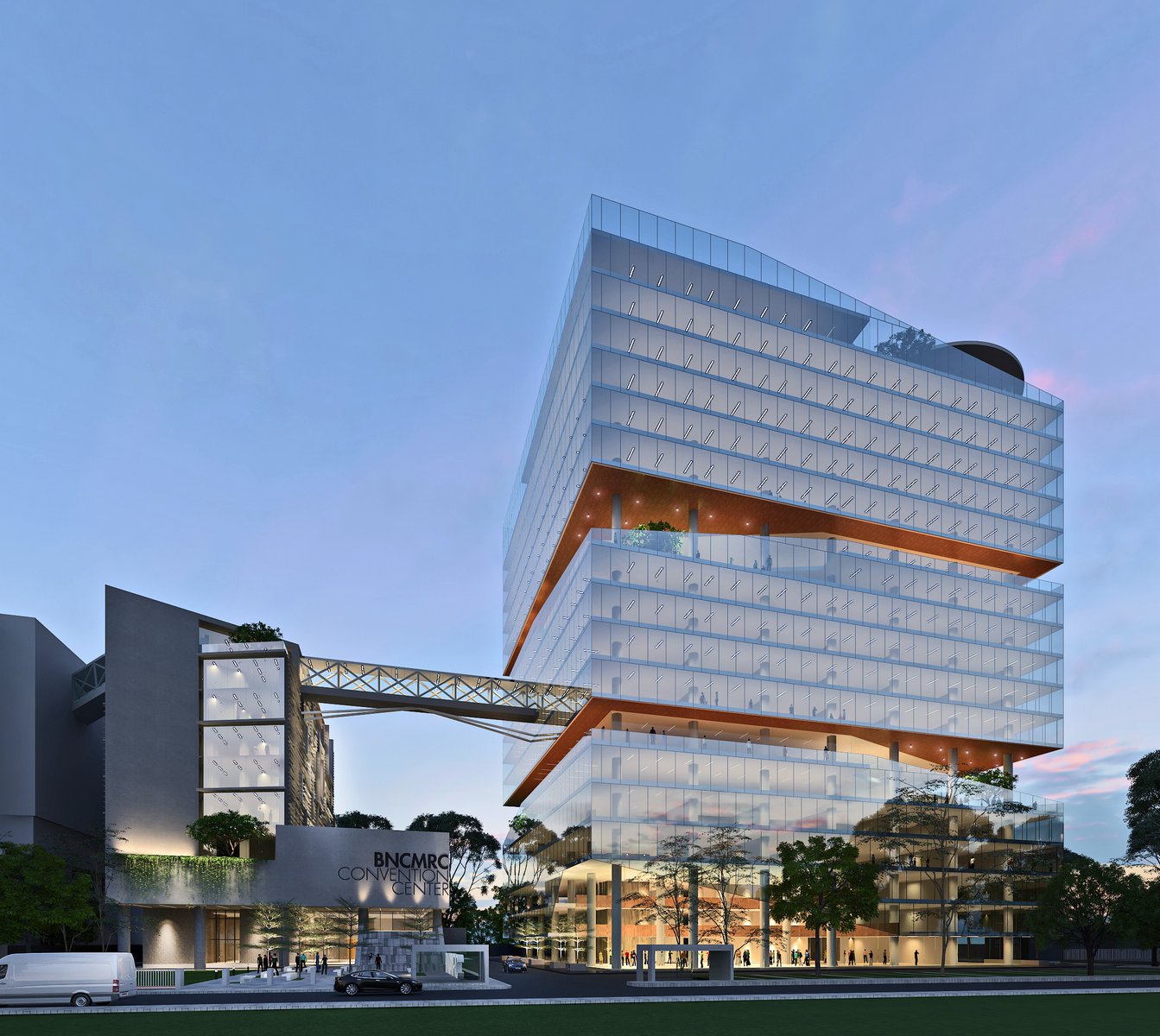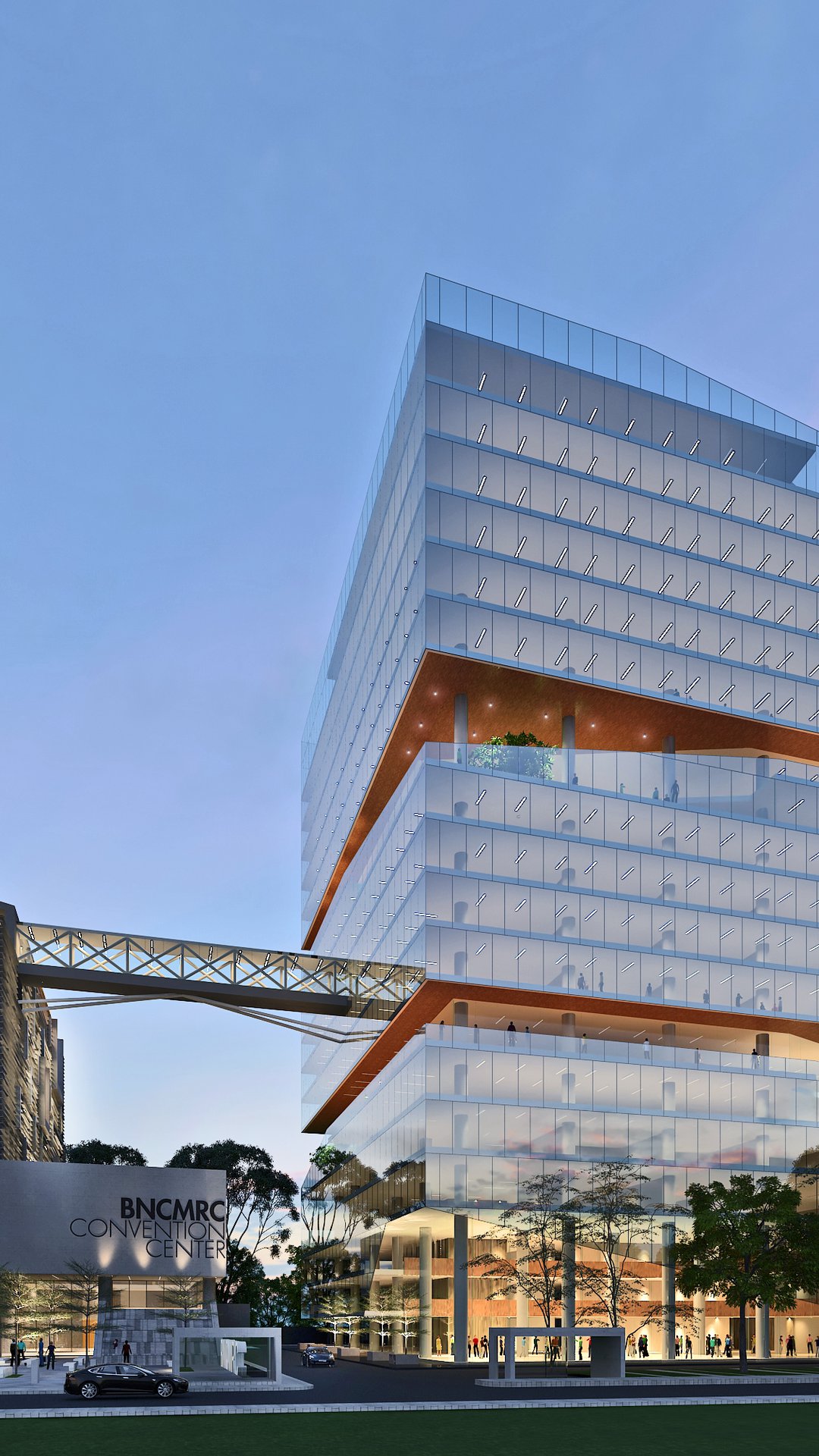 One of the variables influencing a nation's overall development is the adequate availability and efficient usage of proper research facilities. The Bangamataa National Cellular and Molecular Center, or BNCMRC is one such quintessential milestones. It will be administered by Bangladesh Medical Research Council, and the cutting-edge research conducted in this facility will undoubtedly be of immense value in the future development of Bangladesh's medical industry.
According to the guidelines of the National Institute of Health, USA there are three important key components of a research center that simultaneously play a crucial role to the design of individual buildings as well as the master plan. They are: Personal Facility zone, Laboratory zone, and Service Zone.
The BNCMRC master plan had been designed in such a way that all the essential functions can operate individually, as well as collectively as a single complex. This facility will signify a unique turning point in the history of Bangladesh's health sector, as it contains all the components required for contemporary global research.
A medical center also hosts conferences and seminars on a national and global scale in addition to conducting research. To accommodate these functions and other amenities, a 10-story convention center has been designed with a sizable multipurpose hall, two seminar halls, and four other smaller meeting spaces. Furthermore, a dormitory has been created to accommodate conference attendees in addition to other foreign and domestic scholars, and healthcare professionals. Each room of the dormitory has been designed and furnished with modern and sensible aesthetics.
A 16-story laboratory building will host multiple bio-safety level 1, 2. And 3 laboratories from diverse disciplines of medical science. This building, which will contain all divisions of medical science under one roof, will serve the complex's most crucial role. The operations of this building have been integrated around a large courtyard which has been incorporated into the building's architectural design. This courtyard will function as an open garden at ground level, enhancing and streamlining users' overall workplace environment. Both the vertical and the horizontal circulations of this building is arranged around the courtyard.
A waste water treatment plant in the service zone will act as a supporting function of the 20-story building, which will purify the water used for research before transferring it to the primary water disposal line. Additionally, a Nitrogen plant is placed that will provide Nitrogen used in the research works. Additionally, next to it is a 5-story animal research facility, staff quarters, and a generator building for the substation. An effective waste handling system will also be present.
We trust that this facility will significantly enhance Bangladesh's health sector and contribute significantly to the research in that field. There is no alternative to a research-based mindset on science and technology to build a developed and modern Bangladesh of the 21st century. The Bangamata National Cellular and Molecular Center will unquestionably have a special impact in the future landscape of healthcare sector of Bangladesh.
Project Name: Bangamata National Cellular and Molecular Research Center (BNCMRC).
Location : Mohakhali, Dhaka.
Client : Ministry of Health and Family Welfare
Consultants : Dcon-Cubeinside JV
Land Area : 10.25 acre
Total Built Area : 63960 sqm
Architect : Khandaker Ashifuzzaman, Abu Anas Faisal
Design Team : Rakibul Alam Limon
Md. Sharifuzzaman
Arif Zaman
Design Timeline : 2019-2021